Back Facial In Burbank, CA
Back facials consist of deep cleansing, exfoliation, and extractions. Your aesthetician will use steam and creams to clean and exfoliate your skin before extracting debris and oil. Your back facial will end with a detoxifying hydrating mask and a heavenly back, neck, and shoulder massage.
Back facials are great for cleaning those tough-to-reach spots. In addition, back facials target various skincare needs and help eliminate clogged pores, back acne, and dehydrated skin. A back facial is perfect if you are looking toward swimming season or like to wear low-cut clothing.
Incorporate a back facial into your wellness routine and make it a part of monthly pampering. A back facial will help you get rid of acne plus make you feel better and look great. Back facials have the benefit of giving you some time to relax and decompress. In addition, it works to get rid of acne, skin bumps, and blemishes you don't see.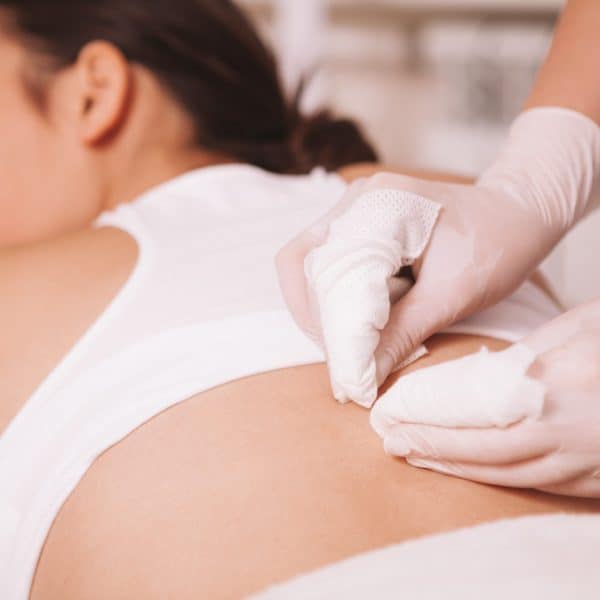 Control Skin issues like:
The American Academy of Dermatology says that acne is the most common skin problem. This problem affects up to 50 million people a year. It is not a teenager's problem, nor a face problem. Back facials are popular treatments to eliminate the painful and problematic pustules that plague you.
Dry skin is a typical problem that gets worse as you age. Moisturizing your back is not a priority, but a back facial can correct the dry skin you cannot see or reach.
Oily back skin is not uncommon and causes back acne. A back facial can restore your skin's general tone and balance by removing excess oil and revitalizing your back's skin.
After a back facial, your back may feel red or moderately irritated. Consistent moisturization and other product applications prescribed by your aesthetician should be a part of your post-care routine. You may need multiple back facial treatments to completely clean your back's skin if you have recurrent back acne.