Discover Kybella: a Revolutionary Way to Target Your Unsightly Double Chin!
Are you frustrated by an unsightly double chin that just won't go away no matter what you do? Unfortunately, this common aesthetic concern caused by an accumulation of excess fatty tissue under the chin and neck is frustratingly difficult to eliminate on your own. In years past, the only truly effective treatment for a double chin was surgical liposuction. Today, however, there is a new approach: an injectable treatment designed specifically to target excess fatty deposits causing your double chin in order to restore your shapely chin and enhance your youthful, naturally-beautiful contours! At Kay Dermatology, we are pleased to now offer a cutting-edge, non-surgical treatment for the double chin: Kybella. This revolutionary treatment is the only injectable specifically approved by the FDA for the treatment of submental fullness. Dr. Kay and his team of specialists at Kay Dermatology pride themselves on offering cutting-edge treatments like Kybella to help you achieve shapely, slim facial contours with as little risk, discomfort, and downtime as possible!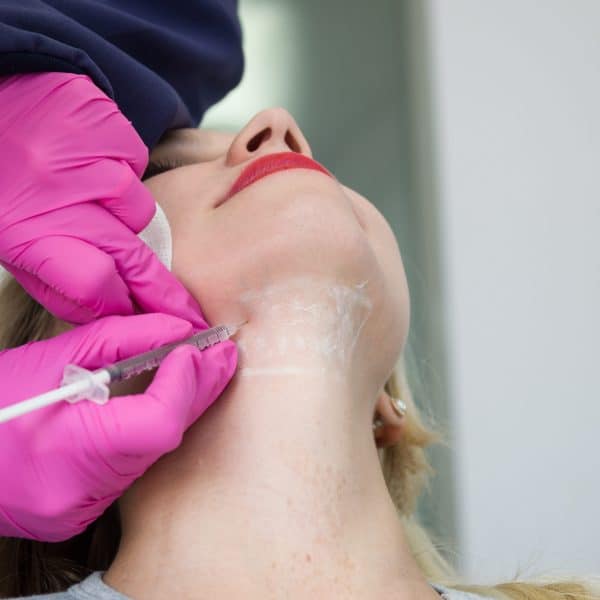 Kybella is an injectable treatment designed specifically to minimize the appearance of submental fullness, or the build-up of excess fat beneath the chin that can lead to a double chin. Kybella is composed of a prescription-strength formulation of deoxycholic acid, a substance found in the body to help naturally process excess dietary fat. When precisely injected into the chin and neck area, Kybella targets the fat cells located on top of the neck muscles. Once injected with Kybella, the targeted fat cells burst and are comfortably and painlessly reabsorbed by the body. And once they are gone, they can never return!*
Kybellas injection can be administered in the comfort of our office by one of our highly skilled medical practitioners. The treatment takes only about 15-20 minutes, and involves a series of very small injections, spaced about 1cm apart, into the chin area. Most patients find the treatment to be generally comfortable, but some may prefer use of a topical anesthetic for maximum comfort. Patients can return to regularly scheduled activities immediately. Most patients will require between two to six treatments about one month apart for optimal results.
*Individual results vary. Results not guaranteed. Although Kybella permanently destroys fat cells located on top of the neck muscles, fat cells that remain under the muscles can continue to grow and expand. It is critical to maintain a healthy, stable weight to extend the longevity of your results.