Treatments for Rosacea IN Burbank, CA
Rosacea causes the skin to be red and irritated, and you often have flare-ups that darken large facial areas with pink, red, or purple color. It affects over 1 million Americans, and its unwanted appearance significantly undermines sociality and self-esteem in many people after age 30. Rosacea does tend to worsen if left untreated.
The causes of rosacea are not fully known, but genetics and environmental factors likely play a part. Proper skin care can mitigate and reduce redness and irritation. Some ways to mitigate rosacea include topicals, medication, lasers, and light treatment.
Topicals
If rosacea gives you breakouts that look like acne, there are effective treatment options. A rosacea treatment plan from a dermatologist may include the following:
Azelaic acid can be applied two times a day. Research shows that 70% to 80% of patients have less rosacea with azelaic acid.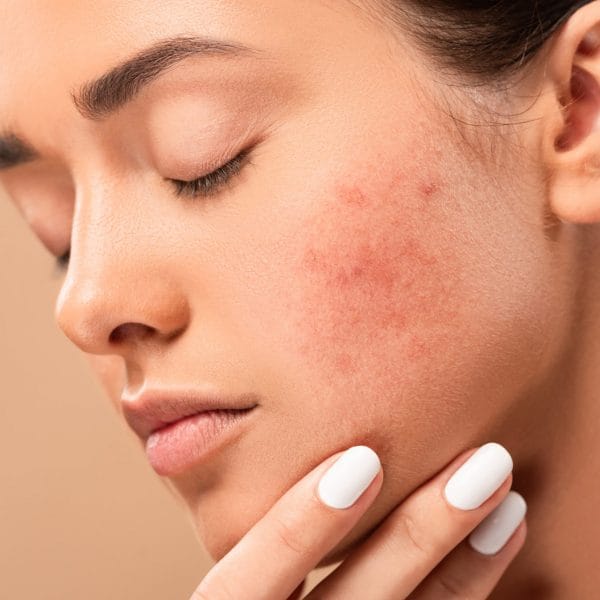 Metronidazole can be used as a gel or cream. Metronidazole treats the acne-like breakouts of rosacea, and studies show it effectively reduces redness and acne breakouts. One study suggests that only 23% of patients had a rosacea flare-up six months after they finished the medication. Your dermatologist may prescribe metronidazole with other treatments if you need something stronger.
Sodium sulfacetamide and sulfur are ingredients in treatment you can get over the counter. The ingredients are used to treat the acne-like breakouts of rosacea safely. Let your provider know if you are sensitive to sulfur.
Retinoids are vitamin A that may irritate skin with rosacea, but once you get rosacea under control, retinoids can help prevent flare-ups and reduce signs of aging.
Oral Medications
Antibiotics or tetracycline is often prescribed to patients with rosacea to reduce acne-like breakouts and redness quickly. In studies, most patients had fewer acne breakouts within one month. You can also use minocycline, doxycycline, or erythromycin to treat rosacea.
Low-dose doxycycline is an antibiotic. It doesn't act like an antibiotic when taken in low dosages since it can't kill bacteria. However, low-dose doxycycline can reduce the acne-like breakout of rosacea and is approved by the FDA.
Isotretinoin is approved for treating severe acne. Isotretinoin can reduce redness and acne-like breakouts, but it also causes serious side effects. Therefore, it is only a good option for some patients.
Procedures
Laser or light therapy can effectively treat redness and acne-like breakouts of rosacea. You may need follow-up laser or light treatments to treat acne completely.
Sensitive Skin Treatment
Treating rosacea and acne if you have sensitive skin is tricky. First, use a gentle cleanser twice a day. Lavender Creamy Cleanser is very gentle and alcohol-free. It has the relaxing antiseptic of lavender, vitamin E that is an antioxidize, plus calming aloe vera.
Vitamin K Creams help rebuild capillaries, soothe inflammation, and improve drainage. Also, protect against the sun. Sun exposure has been known to worsen rosacea flare-ups.
Discuss your options with the providers at Kay Dermatology to fully understand rosacea and how to combat it.